Home » Business
Barbados: Central Bank Governor DeLisle Worrell clashes with IMF head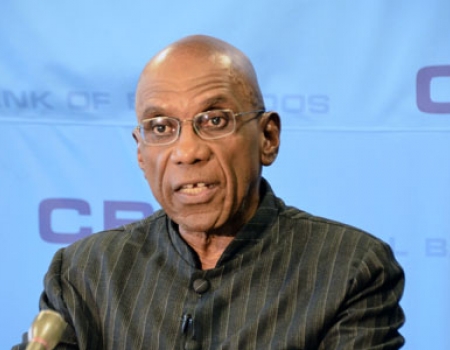 Governor of the Barbados Central Bank., Delisle Worrell. PHOTO/FP
(Barbados Nation) – Barbados Central Bank Governor Dr DeLisle Worrell has gone head-to-head with the International Monetary Fund (IMF) boss, telling her that her agency has been giving "bad advice" to countries like Barbados and, like it or lump it, devaluation is not an option for this country.
A tough-talking Worrell gave IMF managing director Christine Lagarde a blunt assessment of the IMF approach to Barbados and other small economies, saying that its model was simply wrong, at a breakfast meeting with Caribbean delegates attending the recent IMF/World Bank Annual Meetings in Japan.
(More: A Stellar Record of Failure: The IMF and Jamaica)
Barbados' currency has been pegged to the United States dollar at two to one since 1973.
A transcript of the meeting, showed a vigorous debate between Worrell and Lagarde, a former French minister of finance, over the merits of devaluation, and how economic growth could be achieved.
Tags: Barbados, DeLisle Worrell, IMF, International Monetary Fund