Home » Business
Kenyan developed MedAfrica Mobile App gaining popularity to be rolled out across Africa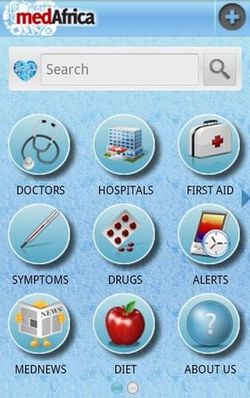 MedAfrica Screenshot. IMAGE/Shimba Technologies
All-in-one Healthcare Solution, MedAfrica, is becoming the go-to app for tens of thousands of Kenyans and Shimba Technologies has plans to expand the mobile apps' information base to service all of Africa.
MedAfrica's library of medical information allows users to obtain certified health information ranging from validating a doctor's credentials, locating a hospital, monitoring symptoms, and accessing a collection of diet and drug related material, and more.
The ingenious app was launched in November 2011 and by March 2012 more than 70,000 users had downloaded the app from Samsung Apps, Nokia, Safaricom and the Android Market. Presently one thousand people are downloading the app each day.
Jackline Cheruiyot, MedAfrica Team Leader at Shimba Technologies said: "Our mission is to increase access to health related content and services to save lives and build a healthy population, our target being to reach every household in Africa." If the current pace of adoption in Kenya is any indication, such a target is no pipe dream."
Another important feature is the Symptoms menu. By touching the graphical representation of the part of their body that is troubling them, specific symptoms and causes are revealed along with links to appropriate medical personnel who can advise them concerning treatment.
There is a ready base of potential users for medAfrica. Kenya's population of 40 million is served by approximately 7,000 registered medical practitioners. Currently, there are 10 million Kenyans who access data daily over smart phones and can directly connect to doctors and access MedAfrica's health resources.
MedAfrica's information comes from solid and certified government and NGO sources. News of disease outbreaks and vaccination campaigns comes from the national Ministry of Health. All of the current content is free. MedAfrica's income source is advertising. The development team is at work creating premium content which will be offered by subscription. Doctors can pay US$10 a month for access to its user base.
Shimba Technologies, based in Nairobi, Kenya was founded by two locally educated entrepreneurs, Stephen Kyalo and Keziah Mumo, with a US$100,000 seed investment by a European venture capitalist. MedAfrica won the East African regional competition of Pivot 25 in April, 2011.
Pages: 1 2