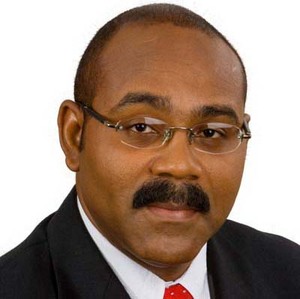 New opposition leader of Antigua & Barbuda., Gaston Browne. PHOTO/File
For the first time in its 66 year history, the Antigua Labor Party will not be led by a member of the Bird family.
On Sunday, Gaston Browne defeated former Prime Minister Lester Bird by a 213-180 margin to take control of the main opposition Antigua Labor Party now preparing to rebuild in time for the general election.
But the leadership is not far off from the Bird family circle, as Browne also announced Sunday that he will marry, Maria Bird – the niece of the now defeated leader on April 24 2013.
What originally had started as a four-man race for the leadership of the party that in 1943 was led by V.C Bird, who was also the president of the Antigua Trades and Labor Union (ATLU), the leadership battle was a straight fight between Browne and Bird after Robin Yearwood and Molwyn Joseph, withdrew their candidacy and pledged their support for the incumbent, Bird.
In his victory speech, Browne thanked all his supporters, and called on all Antigua Labor Party supporters to "let bygones be bygones" and to recommit themselves to defeating the ruling Unity Labor Party (UPP) at the next general elections.
Browne said afterwards that he also intends to ensure the legacy of Lester Bird, the island's second prime minister, who took over the leadership of the party from his father.
He said he intends making the 74 year-old leader emeritus of the Antigua Labor Party. -(CMC)