Home » Sport
WTA Championships: Serena Williams beats Agnieszka Radwanska to reach final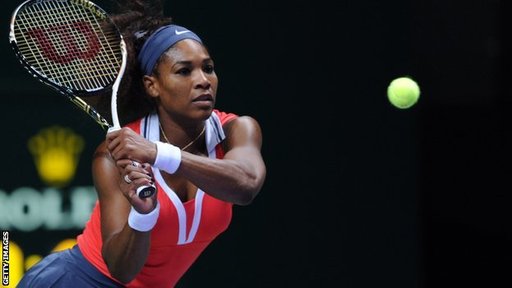 Serena Williams beats Agnieszka Radwanska to reach WTA Championships. PHOTO/Getty Images
Serena Willliams cruised into the final of the WTA Championships by beating Agnieszka Radwanska of Poland 6-2, 6-1 Saturday.
Williams was never challenged by the fourth-ranked Radwanska apart from dropping serve in the fourth game of the first set.
To reach the semifinals, Radwanska beat Sara Errani after 3 hours, 29 minutes — the longest best-of-three match in WTA Championships history.
Williams has dominated the second half of the year, winning Wimbledon, Olympic gold in singles and the U.S. Open. She has won 47 of her past 49 matches and will finish the year as No. 3 in the world.
Williams is seeking her third title in the year-end tournament that brings together the top eight players in the world. She won on debut in 2001 and again in 2009. She has six victories this year and is the only player to win titles on all three surfaces: clay, grass and hard.
Williams took a six-week break after winning the U.S. Open in September but has looked sharper with every match. She now holds a 4-0 record against Radwanska.
Serena Williams is 8-0 in 2012 against the other semifinalists at the tournament. The other two are Victoria Azarenka and Maria Sharapova, who were playing later Saturday.
The American has won 18 of her last 19 meetings against opponents ranked in the top four, including 12 straight.
Copyright 2012 The Associated Press.
Tags: African American Athletes, Agnieszka Radwanska, Serena Williams, Tennis, WTA Championships