Home » Opinion
We get Olympic excellence but mediocrity in education
By Julianne Malveaux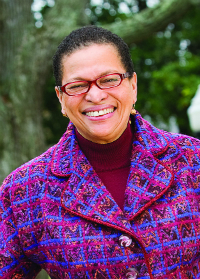 The Olympic games are a celebration of excellence and athleticism. Whether we are cheering the Williams sisters in their gold medal-winning doubles match, or Serena with her gold, or the graceful Gabby Douglas in flight, or some of the many others, we are cheering their excellence, their indomitable spirits, their drive. We are also acknowledging the tens of thousands of hours that they must have put into practice. Even as we cheer, there are lessons for each of us, both individually and in a social policy context.
We've all heard, time and time again, "get out there and do it", or "just do it" or "I worked hard for this". Often the difference between a gold and silver winner is the one was hungrier, wanted the gold more intensely, and worked harder than the other. To be sure, some Olympians have good days, and others have days that are less than good. But there is no such thing as "luck" in the Olympics. Luck is the collision of preparation and opportunity.
Was Gabby Douglas lucky to have been taken on by Liang Chow the coach that trained her to earn the gold? No, she was prepared to shine in a way that made Chow see her potential. And she sacrificed, moving from Virginia to Iowa, missing her family and moving with a white family who, for all their goodwill, were culturally out of synch with Gabby's black experience. She worked hard, she sacrificed, and she won the gold medal.
There is a parallel between Olympics wins and the state of United States education. Even as the Congress considers sequestration when they come back from their month-long break, educators are concerned that education dollars may be cut. Gabby Douglas worked hard, she sacrificed. For all the effort on education, sometimes it seems as if we are spinning our wheels. We know what some of the problems are, but we won't act on these problems. The achievement gap can be addressed, and it is in some school systems. In others, little is being done.