Home » Editorial
The Relevance of Honey Boo Boo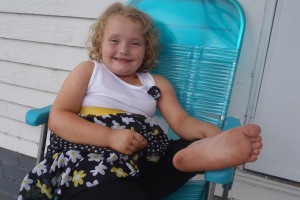 A few hours before President Barack Obama and his challenger Mitt Romney met in New York on October 16, 2012 for their second Presidential Debate, a little girl was asked who she preferred in the White House. To the surprise of most, the 7 year old Honey Boo Boo [of the infamous Here Comes Honey Boo Boo reality television show ] endorsed Barack Obama! Now, all of us secretly endorse people. But does this make national news? Nope. But Honey Boo Boo did. She endorsed Barack Obama – something that might not have happened only a few years ago especially because of where she is from.
Now, anyone who knows anything America's south – this little girl's family is from McIntyre, Georgia – knows that, down there, race is still an issue. Obama is partially black and although he has probably done more for the South than his predecessor did, he will never win states like South Carolina, Georgia, Mississippi or Tennessee. These are considered solid Republican states and only Bill Clinton and Jimmy Carter [both former governors of Arkansas and Georgia respectively] won their states to win their terms of office.
But here we are: A little girl whose family was described by a Forbes magazine reviewer as 'a horde of lice-picking, lard-eating, nose-thumbing hooligans south of the Mason–Dixon line,' thought Obama would be a cool leader of her world again. And this may not matter much because she may have been told what to say – but still, this very show is indicative of what happens in the South.
You see: Honey Boo Boo and her people represent a fascinating class of Americans. Most of America, for all intents and purposes, is made up of a middle class, albeit one that has been shrinking since the 1970s. On the other side of the spectrum is the black population that has failed to make it out of the inner city, out of violence and out of the vicious circle of poverty. But dead right in the middle of all this is class of people pejoratively referred to as 'white trash.' They are, mostly from the rural south, they live lower social class lives and have degraded living standards – almost like outcasts from respectable society. Honey Boo's family could be called white trash – and also, 'crackers' or 'redneck' because this family is actually poor, mostly ill educated and can be equitably compared to 'villagers' from rural Africa.
To illustrate, whenever a city dweller goes to visit his folks in the village, they are, immediately, different from those they find at their destination. People in the village walk around without shoes. They have nuances and habits that 'modern' people consider backward. The only difference in describing the mannerism of people in America's rural south and those in rural Kenya or Mozambique, for instance, is that many of the former are white and the latter are black.
Right there is the subliminal relevance of Honey Boo Boo: Just like Americans are curious about Africans and the lives they lead, this little girl is actually on her way to becoming an American darling. This is in spite of the fact that her mother feeds her very unhealthy food; that this girl has been exploited in the various beauty contests she has been entered into and because of this, there's a camera crew following her family everywhere – capturing their every whim and mundane thought and splashing this on a reality television show. And this show is killing it in terms of both money and viewers!
But we need to segue into why Honey Boo is important to the 2012 election: In 2004, when then U.S. President George W. Bush revived a pledge to give American workers more control over their retirement savings – basically by sanctioning that some money from the Social Security Trust be invested in the U.S. stock exchange and financial markets – he was not only trying to revolutionize the way his country viewed a key part of the American fabric: He was also tapping into America's attraction for hitting the jackpot and finally living the American Dream.
Pages: 1 2