Home » News
Sudan: Minister and several politicians, officials perish in plane crash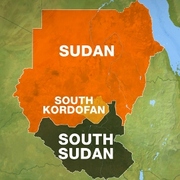 A cabinet minister was among 32 politicians, generals and others killed on Sunday when a plane crashed on its way to Sudan's troubled South Kordofan state for the start of Muslim holidays, state media said.
"All people on board were killed" as the aircraft flew in for the Eid holidays which mark the end of the Ramadan fasting month, Abdelhafiz Abdelrahim, spokesman for the Sudan Aviation Authority, told reporters.
The most senior official among the dead was Khartoum's Guidance and Endowments Minister Ghazi Al-Saddiq, tasked with religious affairs, the official SUNA news agency said, reporting that 26 passengers and six crew were on board.
Speaking on official Radio Omdurman, Culture and Information Minister Ahmed Bilal Osman said the plane "crashed into a hill" because of bad weather, killing the entire delegation.
Abdelrahim said the Antonov plane was landing in Talodi town at about 8:00 am (midnight EST) when "an explosion was heard and the plane was destroyed."
Accidents are common among Sudan's ageing fleet of aircraft.
At least 30 people died when a Sudan Airways jet burst into flames on landing in Khartoum in 2008.
Pages: 1 2