Home » Business
South Africa: Relief as Lonmin strike ends – miners accept deal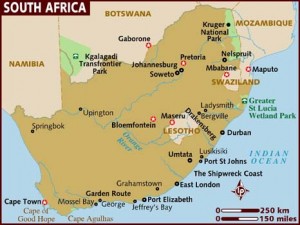 Striking platinum miners in South Africa have accepted an agreement for higher wages with London-registered Lonmin PLC and plan to return to work Thursday, a mediator said of the strike that lasted nearly six weeks and pulled in gold and chrome miners.
The deal reached Tuesday includes a 22 percent pay increase and a one-off payment of 2,000 rand (US$250) to help cover the no-work, no-pay stoppage, according to Bishop Joe Seoka, a member of the negotiating team and head of the South African Council of Churches.
The strike that has hurt South Africa's vital mining sector began August 10.
About 5,000 strikers gathered in a stadium to listen to the deal and cheered when they finally accepted the offer. They then formed a line and danced out of the stadium.
Seoka said he will go back to the negotiations with Lonmin management to finalize the deal Tuesday night.
"You have won as workers!" Seoka told the crowd. He said there will be further negotiations in October where they can discuss a further increase.
One worker held up a hand inscribed in black ink with the phrase "Mission Accomplished."
Pages: 1 2
Tags: Lonmin, Miners, Platinum, President Jacob Zuma, South Africa