Home » News
Somalia: Last stronghold of al-Shabaab militants falls to African Union troops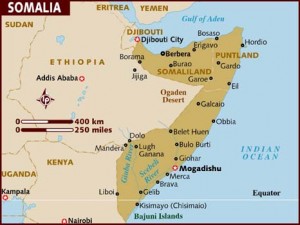 Kenyan troops invaded the al-Qaida affiliated al-Shabaab's last stronghold in Somalia, coming ashore in a predawn assault Friday. Other African Union forces were traveling overland to link up with the Kenyan forces in the port city of Kismayu.
Col. Cyrus Oguna, the Kenyan military's top spokesman, said the surprise attack met minimal resistance but al-Shabaab denied that the city had fallen and said fighting was taking place. Oguna said that al-Shabaab has incurred "heavy losses" but that Kenyan forces have not yet had any injuries or deaths.
Residents in Kismayu contacted by The Associated Press said that Kenyan troops had taken control of the port.
"The operation began five days ago with surgical attacks and gun placement at the jetty and warehouse," Oguna said, adding that Somali national army troops participated in the assault.
An al-Shabaab spokesman said on Twitter that the al-Qaida-linked militants still control Kismayu.
"The enemy forces have launched a desperate attack on Kismayu this morning and the mujahedeen forces are resisting their attacks," Sheikh Abdiaziz Abu-Musab said over the militants' radio station in Kismayu.
Oguna said the assault is part of a four-prong attack involving Kenyan forces currently in villages outside Kismayo. The amphibious assault landed between 10:30 pm (3:00 pm EDT), Thursday and 2 a.m, (7:00 pm EDT), Friday, he said. Some of the troops had night-vision goggles, he said.
Tags: African Union, al-Qaida, Al-Shabaab, Somalia