Home » Editorial
Part V: Why Obama Will Win in November 2012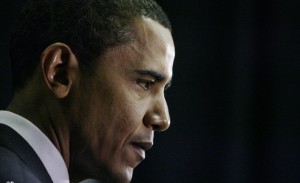 Updated October 10, 2012 – 12:43 p.m.
The polls are in. Angst amongst the Democrats is up and spreading. Following his disastrous performance at the first Presidential Debate last week, Obama is either going head to head with Mitt Romney in the polls, and in others – at least one by Gallup [and as of 10.10.2012, the Pew one] – the incumbent is losing against his erstwhile challenger. Basically, Romney has exceeded expectations, reassured Americans that he is not as bad as he was presented and that he, in reality, is centrist, pragmatic and a sensible conservative Republican who will not kick people off their healthcare or do any of those evil things he has been 'accused' of being capable of.
Obama, on the other hand, cannot seem to get his act straight after failing to defend his record against the man who has accused him of all kinds of government led evil! For the record, Obama, during that infamous debate, could not even defend his first term; could not make the case for liberalism and especially, the case for the timely intervention of the federal government at a time when the economy was in a tailspin. To make it worse, it seemed as though while he saved the big banks and car companies, he did not positively impact the lives of those people on Main Street!
Many liberals are asking themselves how things could have gotten so bad and become so unhinged. Why, they ask: Only a week ago, it seemed like Mitt Romney was about to throw the towel in because everyone was declaring Obama the winner in October. Well … The Debate happened and might as well be that famed October Surprise in American politics.
On the other hand, one can only imagine what Obama must be feeling. He is the one who fumbled this time and brought this hurting on himself and his people. Now, only Obama can quell the roaring emotions. Interestingly, it seems as though the proverbial tables have been turned on Obama since Romney himself was at the center of the mess that his campaign was before last week.
Under the circumstances, there's a congenial dictum that presents liberals as those who, oftentimes, see only a cup that is half empty. The reality is that the Democrats are such a diverse coalition that they, collectively, cannot seem to be steadfast or better still, unified in their support for a cause in juxtaposition to the Republicans.
But anyone who knows Obama knows one thing: That man is as competitive as the next man and always seems to deliver after all. Under the circumstances, many prognosticators who spoke of debates leading to success for challengers point to two debates: Reagan vs. Carter in 1980, and Kerry vs. Bush in 2004.
In 1980, Jimmy Carter the incumbent had presented Reagan as a scary individual – one not to be trusted with the nuclear codes – and one who'd take the country down an unAmerican path. But Reagan – like Romney did in 2012 – exceeded expectations in the debates. He was pleasant and used his professional acting skills to deliver a performance for the books. In the end, however, the Carter Malaise came right on time to bite him as the economy tanked. In November 1980, Carter lost to Reagan by landslide to Reagan because his own party was divided, because the debate between himself and Reagan was held a week before the election and because Reagan had the headwinds he just could not recover from.
2012 could not be any more different than 1980. Even though there was talk of Hillary Clinton challenging Obama, the Democrats are more solidly behind Obama than they were behind Carter [Teddy Kennedy challenged Carter in the 1980 Primaries]. Also, although Obama has eerily Carterlike mannerisms when he speaks and debates, Americans seem to still be enthralled with the novelty that is their charming black president. And most of all, unlike Carter who was facing a sliding economy, Obama has had the fortune of an uptick in consumer confidence from just before and after the Democratic National Convention in September this year. And just last weekend, the country defied global expectations and created enough jobs to bring the unemployment level to less than 8% for the first time in more than 43 months. People had said that the economic collapse, which helped Obama win in 2008, might sink him this time around. Of course, almost like Carter, Obama faces a recession, albeit one for the historic books and is trying to plough out of it. These economic bells might still sink Obama like they did his predecessor three times removed.
But perhaps, a better illustration of today is what happened in 2004. John Kerry, the Democratic challenger basically took the unpopular Bush 43 to the carpet in all three presidential debates. Nonetheless, Bush, for a number of reasons, still went on to win the election that November. However, until late in the dead of Election night, some even said Bush had called Kerry to concede. Is the country or scenario any different? Optimists hope so. After all, Bush was even more unpopular than Obama because of the Iraq war. On the other hand, conventional wisdom suggests that after George Bush's 8 years in office, no Democratic candidate should struggle to get into the White House. Those sages do not take into consideration that the Republicans are a truculent and cohesive opposition – and a global yet personal economic disaster of this magnitude should sink anyone – even a guy with a beautiful family, impeccable manners and wild hopes for his country and the rising seas.
Pages: 1 2