Home » Sport
Olympic champ David Rudisha stunned as Ethiopia's Aman wins 800m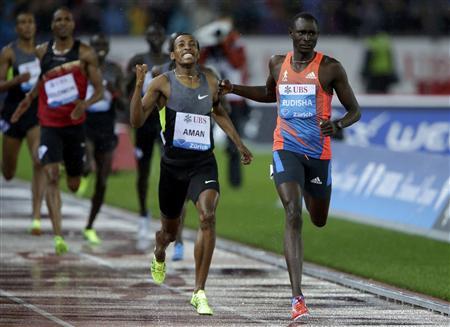 Ethiopia's Mohammed Aman celebrates as he won the men's 800m race ahead of David Rudisha of Kenya during the Weltklasse Diamond League meeting in Zurich. PHOTO/Reuters/Ruben Sprich
This race, Rudisha's only outing since he won gold in London earlier this month in a new world record of 1min 40.91sec, had been billed as another chance for the 23-year-old Kenyan to better his own mark.
But no one had counted on the kick of 18-year-old Aman, who finished sixth at the Olympics but who importantly last year became the first and last man to defeat Rudisha since 2009.
Starting in lane seven with Kenyan training partner Sammy Tangui on his outside, Rudisha bolted past his pacemaker in the opening strides.
A grimacing Tangui caught up to act the hare, but missed his ambitious target of 48.5sec for the first 400m, going through the bell in a disappointing 49.59sec with Rudisha in hot pursuit.
With any chance of a world record completely out of the window in cold, wet conditions, Rudisha found himself in front but in a real dogfight with Aman, who kicked past the Kenyan world champion as the duo rounded the last bend.
Aman held on for a convincing win in a personal best of 1:42.53, with Rudisha timing 1:42.81 and another Kenyan, Leonard Kosencha, completing the podium at 1:44.29.
Copyright 2012 AFP
Tags: David Rudisha, Mohammed Aman