Home » Business
Nigeria's Arik Air suspends domestic flights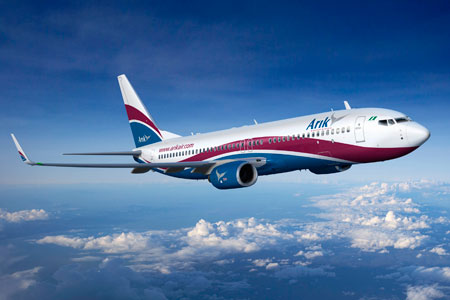 Nigeria's largest airline, Arik Air cancelled all domestic flights for a second day after a union under the country's airports authority stopped its planes from flying yesterday in Lagos, the commercial capital.
Officials from the Federal Aviation Authority of Nigeria blocked check-in counters and chained doors leading to a boarding gate.
The Aviation Authority is owed 18 billion Naira (US$114 million) by the airline for the use of airport facilities.
The airline, which operates 23 aircraft, flies to Trinidad & Tobago, Johannesburg, Amsterdam, London, Madrid and New York.
Its international operations have not been affected by the suspension. Arik Air has appealed to the federal government of Nigeria for "urgent intervention" so it can resume its domestic operations.
Tags: Arik Air, Federal Aviation Authority of Nigeria, Nigeria