Home » Business
Nigeria's Arik Air resumes domestic flights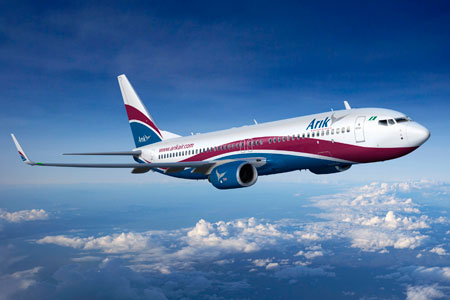 Arik Air, Nigeria's largest airline will resume flying its domestic routes Sunday, the company's managing director said, after publicly announcing it would stop flying.
The airlines' managing director Chris Ndulue offered a brief statement to reporters Saturday, only saying the company met with government officials in the nation's capital and had resolved "all issues" it had.
"We are happy to resume operations," Ndulue said.
In a separate statement, secretary to the federal government of Nigeria, Anyim Pius Anyim said all complaints by both Arik Air and the Aviation Ministry had been resolved. He also said both parties wanted to apologize to those who rely on air travel in Africa's most populous nation.
"We use this opportunity to appeal to both parties to eschew every provocation that may have arisen as a result of this unfortunate misunderstanding," the statement read. "Accordingly, all the exchange of accusations and allegations are vitiated and so of no consequence."
Arik Air halted its domestic flights Thursday after it said federal workers raided its operation at Lagos' Murtala Muhammed International Airport.
But by not publicly discussing the problems between the air carrier and the government, the spat has led to further concerns about Nigeria's aviation industry. The industry has been in turmoil since a jetliner crashed in June before landing in Lagos, killing more than 160 people.
Pages: 1 2