Home » Business, Life
Nigerian farmers sue Shell for environmental degradation in Dutch court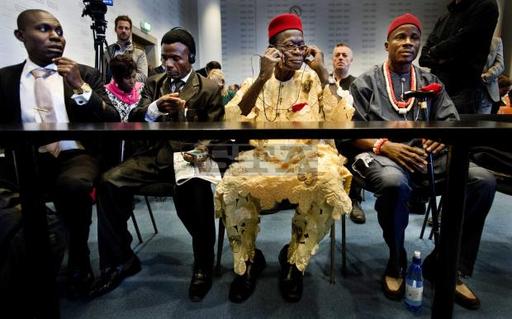 Nigerian farmers (r-r) Alali Efanga, Friday Alfred Akpan-Ikot Ada Udo, Chief Fidelis Oguru Oruma and Eric Dooh sit in the court in The Hague, Netherlands, 11 October 2012. PHOTO/EPA/Robin Utrecht
Nigerian farmers asked a Dutch court Thursday to rule that oil company Shell is liable for poisoning their fish ponds and farmland with leaking pipelines, in a case that could set a legal precedent for holding multinationals responsible for actions overseas.
The case at The Hague Civil Court marks the first time a Dutch company has been sued for alleged environmental mismanagement caused by a foreign subsidiary and could pave the way for similar claims if it succeeds.
Royal Dutch Shell PLC long argued that the case, which was launched in 2008, should be heard in Nigeria and still maintains the Dutch court should not have jurisdiction.
Lawyers for the Nigerians argue that key policy decisions by Shell are made at its headquarters in The Hague and that means the Dutch court can rule in the case.
Just how much compensation and clean-up costs Shell faces would be addressed at a separate hearing if the court rules in favor of the farmers.
Four villagers and environmental group Friends of the Earth say Shell pipeline leaks fouled fish ponds, farmland and forests in three villages in the Niger Delta, Goi, Oruma and Ikot Ada Udo.
"If you are drinking water you are drinking crude, if you are eating fish, you are eating crude, if you are breathing, you are breathing crude," one of the farmers, Eric Dooh, told reporters outside court.
Tags: environmental degradation, farmers, Nigeria, oil, Shell, The Hague