Home » News
Nigeria: Suicide bomber rams into church, 8 killed – Boko Haram suspected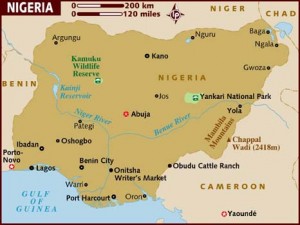 A suicide bomber rammed an SUV loaded with explosives into a Catholic church holding Mass on Sunday in northern Nigeria, killing at least eight people and wounding more than 100 others in an attack that sparked reprisal killings in the city, authorities and witnesses said.
The car bombing, the latest high-casualty attack targeting churches, comes as people fear more reprisal killings and religious violence could follow in this city and elsewhere along Nigeria's uneasy religious fault line separating its largely Christian south from its predominantly Muslim north.
The attack happened around 9 a.m. (4 a.m. EST) as the reverend of the parish conducted Sunday worship. Witnesses said the suicide bomber plowed his SUV past a gate and a security guard before ramming into the church's wall and detonating the explosives hidden inside the vehicle.
The blast left shattered glass and blood across the floors of the church's sanctuary. One of the brown walls of the church caved in and bore scorch marks from the blast.
Rescuers found the bodies of seven worshippers and the suicide bomber after the attack, said Yushau Shuaib, a spokesman for the Nigeria National Emergency Management Agency. Shuaib said more than 100 others suffered injuries in the blast and had been taken to local hospitals.
Kaduna state police commissioner Olufemi Adenaike told reporters at the church that authorities had urged those living in the religiously mixed neighborhood to return home and stay indoors to halt any further revenge attacks.
Saidu Adamu, a spokesman for Kaduna state government, said the rest of the city was peaceful.
Tags: Boko Haram, Christians, Kaduna, Muslims, Nigeria, President Goodluck Jonathan, Sharia law, Terrorism