Home » News
Nigeria arrests 15 Russian sailors smuggling arms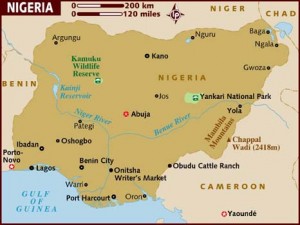 (Reuters) – Authorities in Nigeria seized a ship and arrested its 15 Russian crew members on suspicion of arms smuggling, after they found several guns and about 8,500 rounds of ammunition on the boat, the Navy said on Tuesday.
The vessel was intercepted over the weekend in Lagos, one of Africa's busiest ports, Navy spokesman Commodore Aliyu Kabiru said by telephone. It belonged to the Moran Security Group, based in Moscow, and was flying a Dutch flag, he added.
There was no immediate comment from Moran.
"The vessel was carrying 8,598 munitions and different rifles. Investigations are still ongoing," he said. He gave no further details.
A Nigeria navy source, who could not be named, said 22 Benelli MR1 rifles and several other automatic weapons were found.
Arms smuggling is a flourishing enterprise in Nigeria, the country is also sometimes used as a conduit for shipping arms into other parts of West Africa or the world.
In 2010, a consignment of rocket launchers, grenades and other explosives from Iran was seized at Lagos, causing a diplomatic incident between the two countries, and later between Iran and Senegal, which accused Iranian security forces of using the route to supply weapons to its Casamance rebels.
Tags: arms, arms smuggling, Iran, Nigeria, Russian