Home » Opinion
Mitt Romney Won the First Debate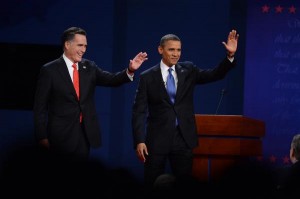 By Dennis Matanda
Barack Obama lost his first debate tonight. He allowed his challenger, Gov. Mitt Romney to walk all over him; Obama did not push back, and on his anniversary night, with his wife and bride of 20 years in the audience, he made the exact same mistake George W. Bush made in 2004 in his debate against John Kerry. Obama should never have allowed Mitt Romney to open his mouth and become a credible alternative to him. But Obama gave Romney and in – and thus, lost the debate when he could have sealed the presidential election on the night of October 3, 2012.
Tonight, Pres. Obama and Gov. Romney stood shoulder to shoulder for the first time. Americans tuned in to see whether the man who had been presented as an evil capitalist was actually as diabolical. They did not get that. Instead, in juxtaposition to Obama, Romney was passionate. He was engaged. He was knowledgeable and outdebated the American President. It did not matter that most of what he was saying was not necessarily true or what he actually believed. He denied almost all that he has been talking about on the campaign trail. He prevaricated on the very same plan he had said he'd gut on his first day of office. He did not have much to say against the President. In fact, the two men seemed to agree on education, on health care and entitlement programs.
But let us look at the most important thing: The Media Narrative. Many people do not fully understand that America is driven by snippets and soundbites. Well, it is. There is too much happening to actually concentrate on one thing. There are television shows to watch, jobs to go to, schedules to keep, children and parents to look after. People are stretched and most of the voters do not necessarily have time to do the analysis for themselves. They depend on what the media tells them. And the media is a whole host of television and radio pundits who follow a certain zeitgeist – a spirit, so to speak. If someone shows their weakness, people will pounce on it and the media will expound on this – whether it is true or not. For the past few week, following the Democratic National Convention [which came after the Republican National Convention], Obama was winning. He came out of his welcome party looking good, his party was behind him and the economy seemed to be improving. Bill Clinton had endorsed Obama and made the point that the economy was roaring back. Suddenly, everyone started to think that, maybe, things were not so bad after all. The Republicans tried to remind voters and the public that Obama was at fault in keeping the unemployment level so high. However, people did not believe them and by the time Obama walked into the University of Denver auditorium for the debate tonight, he was ahead.
What happened? Like we have already said, Mitt Romney took it to Obama. Obama seemed like he was in shock, first, that someone could speak to him this way, and secondly, that Romney could spew all this polemic and blurt out all these lies. Many of the Democrats and those that know of Mitt Romney's life could tell that Romney was lying and wanted Obama to call the man out on his lies. But Obama did not. He looked into his notes and to his podium; other times, he looked at the moderator. But he did not look at his challenger. What became true, tonight, is that if one looks like they believe what they are saying, then that thing is the truth for them. Thus, although Mitt Romney told countless lies tonight – in front of the American people, he looked believable. He looked like he was sincere in his drive to win.
For the next few days – until October 11 when the Vice Presidential candidates debate – the media narrative is going to make the case that Mitt Romney is not too bad after all. Besides, everyone likes a winner. That is the premise of the media narrative. Even the major liberal networks made the point that Romney won the first debate. On the other hand, the conservative news sites and networks did not want to appear too pleased with their candidate – and so many parsed their comments with sense and sensibilities about how Obama seemed presidential. But God knows that this debate was the juice the conservatives needed! Right now, the polls show that the conservatives are more enthusiastic about throwing Obama out than the liberals are about a President Obama whose first years in office have been a disappointment. Conservatives and people in the middle will contribute to Romney's campaign and the polls over the next few days may bear a bounce for Romney.
However, the question at this juncture is whether Mitt Romney will trounce Obama in the general election. From this paper's standpoint, he will do no such thing. We have made this case for the past 4 months, and nothing seems to have changed the fundamentals. Nonetheless, Obama cannot afford setbacks such as this one. And as many people know, Obama is one hell of a competitive SOB! Obama performs best when he is down or has lost a tactical battle in a long war. And to that, the Obama campaign is going to make hay from all the lies Romney told. Also, Romney seemed to forget that there are 2 more debates. Maybe he awakened the Obama monster. Or maybe, he killed it. After all, many people wanted to see Obama and Romney on stage together to make up their minds after this first debate. Obama's people can only hope that this is not the case. If not, they have less than 15 days to turn things around.
Dennis Matanda,
Editor – editor@thehabarinetwork.com