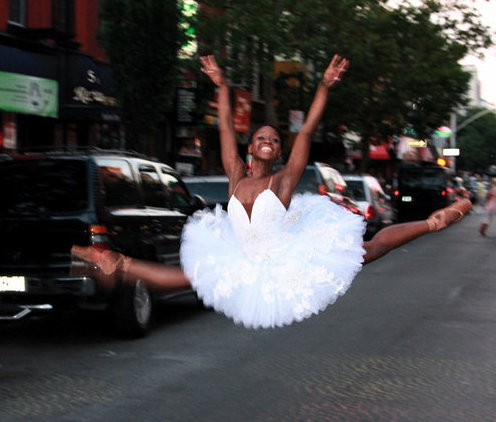 Michaela DePrince. PHOTO/First Position
Michaela DePrince was little more than a toddler when she saw her first ballerina — an image in a magazine page blown against the gate of the orphanage where she ended up during Sierra Leone's civil war. It showed an American ballet dancer posed on tip toe.
"All I remember is she looked really, really happy," Michaela DePrince told The Associated Press this earlier week. She wished "to become this exact person."
From the misery of the orphanage "I saw hope in it. And I ripped the page out and I stuck it in my underwear because I didn't have any place to put it."
Now Michaela DePrince is the one inspiring young Africans: She's an African dancer in the world of ballet that sees few leading black females. She was adopted and raised to become a ballerina in the U.S. — a country where she believed everyone walked around on tippy toes.
On July 19, DePrince performs in her first professional full ballet, dancing the part of Gulnare in Le Corsaire, as a guest artist of South Africa's two biggest dance companies, Mzansi Productions and South African Ballet Theatre.
Her ascent to stardom in the ballet world has been fast, if not typical. At 17, she's already been featured in a documentary film and has performed on TV-show "Dancing With the Stars". She just graduated from high school and the American Ballet Theatre's Jacqueline Kennedy Onassis School, and will go on to work at Dance Theatre of Harlem. Her family recently moved from Vermont to New York City to support her dance career and her sister's acting and singing. Michaela said she has been offered many opportunities to dance with companies in Europe and in the U.S.
"I lost both my parents, so I was at the orphanage for about a year and I wasn't treated very well because I had vitiligo," she said Monday. "We were ranked as numbers and number 27 was the least favourite and that was my number, so I got the least amount of food, the least amount of clothes and what not."