Home » News
Mali: Support for military intervention by ECOWAS grows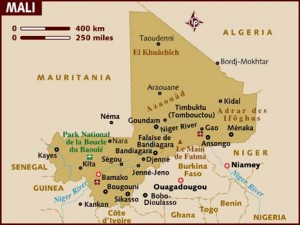 High-level delegations from the West African bloc – the Economic Community of West African States (ECOWAS) and the the United Nations met with Malian leaders Friday to hammer out details for proposed military intervention to retake northern Mali, which has been overrun by al-Qaeda affiliated Islamists.
As the crisis drags on, hopes for a negotiated solution appear to be fading. What was once fierce resistance to the prospect of foreign troops in Mali appears to be waning.
Many in Bamako say they worry that Mali's military is not well equipped to take back the region alone. They feel that the Malian military needs training and it needs the help of ECOWAS.
The Islamists have been imposing their strict version of sharia law on areas under their control, arresting unveiled women, stoning an unmarried couple to death, publicly flogging smokers and amputating suspected thieves' limbs, according to residents and rights groups.
On Thursday, the Islamists were also destroying more Muslim saints' tombs in the ancient city of Timbuktu, witnesses said, in the latest attack on the world heritage sites considered blasphemous by the jihadists.
New African Union chief Nkosazana Dlamini-Zuma, Mali's interim president Dioncounda Traore and UN Secretary General Ban Ki-moon's special envoy for the region, Romano Prodi, are all expected at Friday's talks.
On October 12, the UN Security Council passed a resolution asking West African nations to speed up preparations for an international intervention and giving them 45 days to lay out detailed plans.
ECOWAS has said it has 3,000 troops on standby for a mission to reclaim the north.
Copyright © 2012 AFP.
Tags: African Union, Economic Community Of West African States, ECOWAS, Mali