Home » News
Mali: ECOWAS urging intervention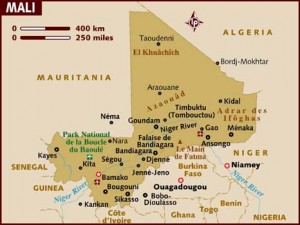 The president of the West African bloc of nations said Monday it "can no longer hesitate" to combat terrorism and criminality in northern Mali, which was overrun by elements affiliated to al-Qaeda.
Earlier this month, Mali's interim government requested military intervention, including aerial support and five battalions but leaders of a March coup, who retain considerable influence in Mali's capital Bamako, have previously opposed foreign intervention.
In his remarks, Desire Kadre Ouedraogo, president of the Economic Community of West African States (ECOWAS), said it is important for political and military authorities in Mali to speak "with one voice" on the proposed intervention.
Foreign and defense ministers opened a meeting in Abidjan on Monday to discuss details of the deployment, which has yet to be approved by the United Nations Security Council.
Mali military and civilian authorities on September 1 requested assistance from ECOWAS, the African Union and the U.N. in recovering the territory in the north.
Speaking on behalf of ECOWAS at the Security Council in New York, Ivory Coast's U.N. Ambassador Youssoufou Bamba said the Mali request was welcome but fell short of the regional bloc's anticipated role. That's because it ruled out an ECOWAS military presence in the first two phases of the planned deployment — assisting to secure institutions in Bamako during the transition and helping to reorganize and train the Mali forces, he said.
"The request limited assistance to only the provision of equipment, logistics and intelligence in these phases, and allows for the deployment of troops only in Phase 3, the re-conquest of the territorial integrity of Mali," Bamba said.
Pages: 1 2
Tags: al-Qaeda, ECOWAS, intervention, Mali