Home » Life
Making Obama's African American Education initiative work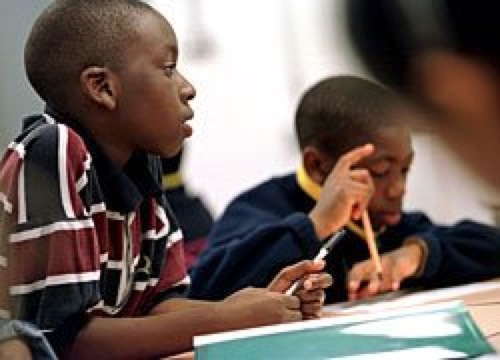 African American school children. PHOTO/NewsOne
After reading President Obama's Executive Order creating the White House Initiative on Educational Excellence for African Americans, I thought about my father, Harold P. Chavous.
(More: Obama's Executive Order to benefit African Americans for generations to come)
Born on a farm in Aiken, South Carolina, at nine years old he began his educational journey by walking seven miles each way to a one room schoolhouse. At fifteen, he was the first in his family to go to college. After graduating from South Carolina State University, he became a lieutenant in the Army and was one of the first African American officers to command white troops following President Truman's desegregation order during the Korean War.
Later, he briefly attended medical school, but he had to drop out because he couldn't afford school and feed his ever growing family at the same time. But he was determined to better himself. He enrolled in a night pharmacy school program, eventually graduated and became one of the first African Americans licensed to practice pharmacy in the state of Indiana.
As educated as my father was, however, at his core, he remained that country boy from Aiken whose eloquence was found more in simple, straightforward talk rather than sweet sounding rhetoric.
And though he was an African American man born in the south in 1931, my father's life story served as the embodiment of how education can change one's life. Before he died, he would reflect on his journey and would express amazement at how unlikely it was for him to be able to go to college and have a professional career.