Home » Sport
London 2012: Kenya's David Rudisha sets world record in 800 and takes gold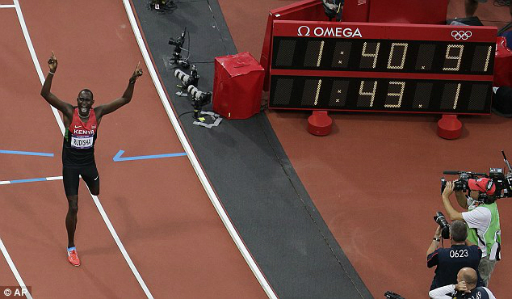 David Rudisha of Kenya raises his arms in victory after winning the 800-meter final and breaking his own record. PHOTO/AP
David Rudisha set a world record to win the Olympic 800-meter title with an overpowering show of front-running.
When many were hoping that Usain Bolt would set such a mark in the 200 later Thursday, the Kenyan stole some of the Jamaican sprinter's thunder at the beginning of a balmy evening suited for setting great times.
Rudisha set off with his giant strides from the starting gun, immediately took the lead and steadily built on it, as many of the year's greatest middle distance runners could never even get close.
He finished in 1 minute 40.91 seconds, shaving .10 of a second off the mark he set in 2010.
Immediately, he lifted his arms in victory as the time flashed just next to him and the 80,000-capacity crowds at the Olympic Stadium erupted in wild cheers, celebrating the first world record of the track and field program.
In the stands chief Olympic organizer Seb Coe and IAAF President Lamine Diack were shaking hands to celebrate the success.
In the race there were three national records – including Rudisha's, four personal bests and one season best.
Pages: 1 2