LeBron James beats Out Michael Phelps and Usain Bolt for the title
LeBron James has been named as the Associated Press' male athlete of the year.
James collected 24 first-place votes, beating out a pair of Olympic legends: Michael Phelps (16) and Usain Bolt (9), the fastest men in water and on land, who are not accustomed to finishing behind anyone.
James joined Michael Jordan as the only NBA players to win twice. Jordan won it three straight years from 1991-94.
A keen sports fan, James was flattered to be in the same class with Phelps, the 23-time gold medalist who added five more to his record collection at the Rio Olympics.
"To be that dominant in your respective sport, to see what he's been able to do over the years, what he does in that water, man, it's tremendous and very inspiring," said James. "When you have that type of tenure to be able to dominate, when you know that the entire competition is gearing up to beat you — and only you — and you're still able to come away No. 1 or always be at the top of the food chain, that's very inspiring."
That James received the honor in an Olympic year underscores the weight of his accomplishments.
His 3rd NBA crown was for Cleveland, delivering on a promise James made to a city that hadn't celebrated a major championship since 1964 and had endured many torturous sports moments since.
James, whose game shows no signs of aging as he approaches his 32nd birthday, came up short in 2015, leading an injury-depleted Cleveland team to the finals, where they lost to the Warriors. And although James posted the best statistical series of any player in history, his critics were quick to point out his 2-4 record in the finals compared to Jordan's 6-0.
Simone Biles honored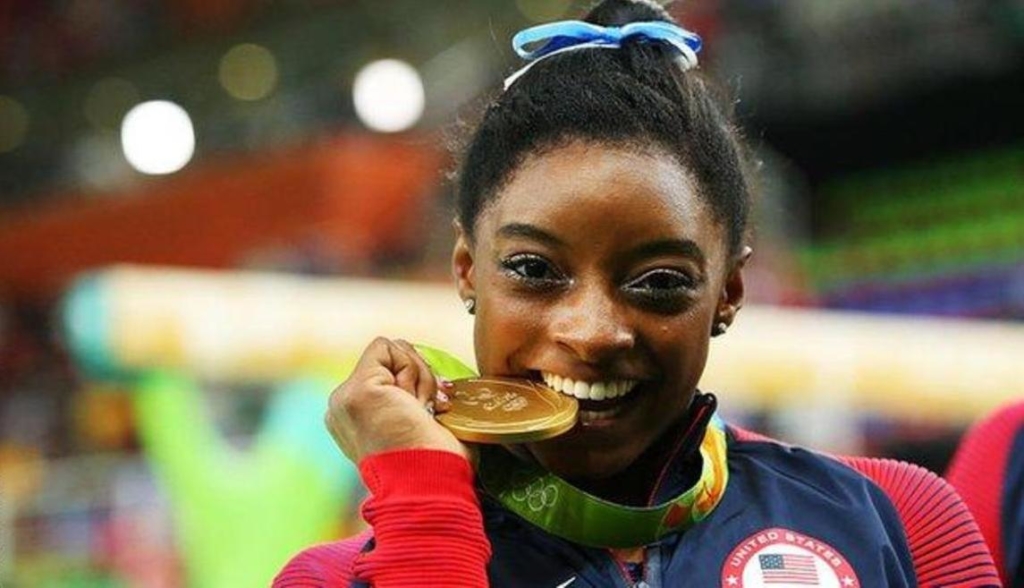 Meanwhile, U.S. Olympic gymnast Simone Biles was named Associated Press top female athlete.
The 19-year-old Biles who won 5 medals at the Rio Olympics, became the 5th gymnast to win the honor.
In a vote by U.S. editors and news directors, Biles received 31 votes out of a possible 59 votes. U.S. Olympic swimmer Katie Ledecky, who won 4 golds and a silver in Rio, finished second with 20 votes. Serena Williams, who won Wimbledon for the 7th time to tie Steffi Graf's record of 22 Grand Slam titles, and 3-time AP women's NCAA basketball Player of the Year Breanna Stewart tied for 3rd with 4 votes each.
Copyright 2016 The Associated Press