Home » Sport
LeBron James, Kevin Durant most likely to win MVP award – NBA GMs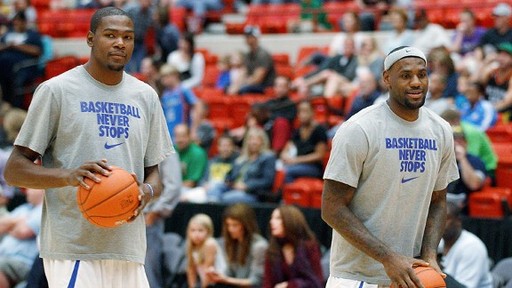 Basket ball stars Kevin Durant (l) with LeBron James. PHOTO/Sue Ogrocki/AP
The annual NBA general manager survey came out yesterday. All 30 general managers were asked 57 questions from which team will most likely win the title to which player will win the MVP.
LeBron James and the Miami Heat got a lot of love from the general managers and to no surprise, 70 percent of the general managers believe Miami will repeat as champions this season. The Lakers came in at 23.3 percent while only 6.7 percent believe the Oklahoma City Thunder will. Last year in the poll, 74.1 percent believed Miami would win it all.
The Thunder are given only a 36.7 percent chance to win the Western Conference behind the Lakers at 60 percent. Last year, the Thunder were tops in the West at 67.9 percent.
The general managers love what the Lakers did this offseason as 86.2 percent said they had the best offseason. 39.3 percent thought the Steve Nash signing in L.A. was the most surprising move of the offseason.
Two third of the general managers believe LeBron James will win his fourth MVP this season. Last year, Durant led in this category as 66.7 percent believed he would win the award. This year, just 30.0 percent believe Durant will win the MVP.
Last year, the general managers were split right down the middle with who they would pick to start a franchise with as 37 percent picked James and 37 percent picked Durant. Times have changed and now 80.0 percent say James and 16.7 percent say Durant.
Tags: Kevin Durant, Lebron James, Most Valuable Player, MVP, NBA