Home » Life
Jamaica: Tropical storm warning as Sandy approaches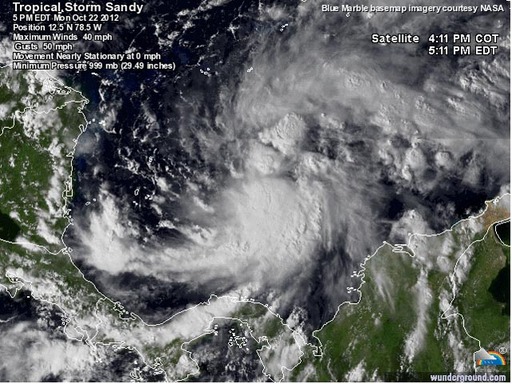 Satellite image of Tropical Storm Sandy. IMAGE/NASA
A tropical storm warning has been issued for Jamaica as Tropical Storm Sandy approaches and is expected to strengthen.
Sandy's maximum sustained winds early Tuesday are near 75 kph (45 mph). But the U.S. National Hurricane Center says Sandy is forecast to be a hurricane when it nears Jamaica on Wednesday.
The storm is centered about 525 kilometers (325 miles) south-southwest of Kingston, Jamaica, and is moving north-northeast near 6 kph (3 mph).
Meanwhile, a tropical depression in the Atlantic is expected to become a tropical storm later in the day. The depression's maximum sustained winds are near 55 kph (35 mph). The depression is centered about 1,325 kilometers (825 miles) northeast of the Leeward Islands and is moving north-northeast near 19 kph (12 mph).
Copyright 2012 The Associate Press
Tags: Jamaica, Sandy, Tropical storm