Home » Business
Jamaica: New company working to boost green energy by over 50%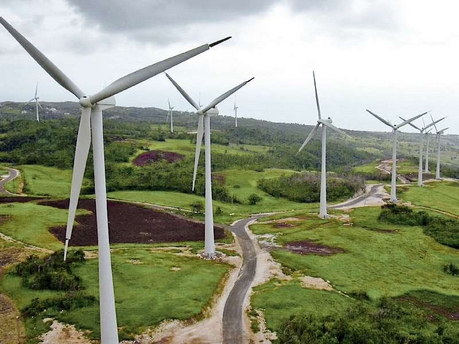 Wigton wind farm in Manchester, Jamaica. PHOTO/Jamaica Gleaner
A new Jamaican company is aiming to establish a 24-megawatt wind farm in central Jamaica within a few years.
Clean Alternative Energy Limited (CAEL) is proposing to construct eight 3-megawatt wind turbines in Great Valley Manchester, from which it hopes to sell electricity to the national grid as well as carbon credits to Europe.
The project, which is now at the environmental assessment stage, would increase renewable energy derived from wind in Jamaica by more than 50 percent.
Currently, the 42-megawatt of wind energy generated by the Petroleum Corporation of Jamaica-owned Wigton Wind Farm and Jamaica Public Service Company (JPS), represents 3 percent of electricity generated in the country.
Tags: Clean Alternative Energy Limited, Green Energy, Jamaica, wind energy