Home » Business
Jamaica: Hurricane warning lifted as Sandy moves north – damage estimated in billions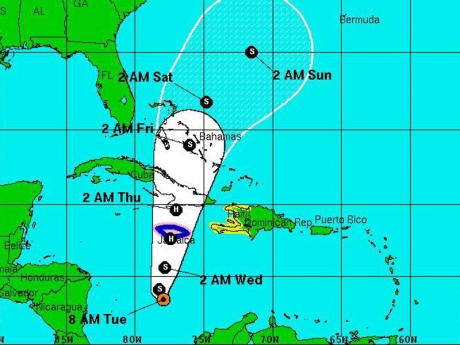 Projected path of Hurricane Sandy. IMAGE/U.S. National Hurricane Center
The Meteorological Service has discontinued the Hurricane Warning for Jamaica as significant improvement in weather conditions are now being experienced after the passage of Hurricane Sandy. The island is no longer at threat of hurricane or tropical storm force winds as Sandy continues to move away.
At 4:00 am (E.S.T), the center of Hurricane Sandy was located near Latitude 20.9 degrees North, Longitude 75.8 degrees West. This is about 75 km (40 miles) east of Holguin, Cuba, or 300 km (185 miles) north of Morant Point, Jamaica.
The center of Sandy is expected to move off the northeastern coast of Cuba this morning, and be near or over the central Bahamas by tonight before moving near or over the northwestern Bahamas tomorrow.
Tags: Cuba, Hurricane Sandy, Jamaica, Sandy, The Bahamas