Home » Life
Jamaica: Education ministry to roll-out boys oriented curriculum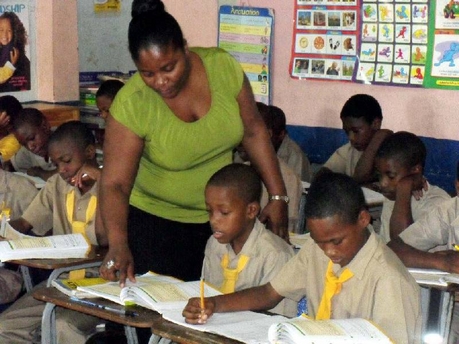 A teacher of the all-boys grade six at Jericho Primary School, assists one of her 49 students. The school separates boys and girls to gain optimal learning. PHOTO/Jamaica Gleaner
The Education Ministry in Jamaica will begin to roll out a specific tutorial programme tailored for boys, which will be more practical-oriented. It is expected that this development will commence in the new academic year.
Education Ministry official, Clement Radcliffe who is also the acting chief education officer, revealed that there was mounting pressure to address the issue of why boys continue to perform below par.
For several years, there has been a growing concern that boys continue to lag behind girls academically, with examination results at all levels consistently having the girls outdoing the boys two to one.
"The Ministry of Education has been utilizing all their efforts to determine how boys learn from the data that we have been reviewing. We have also been looking at international research and trends, and these will be used to determine the methodologies which will be used going forward," said Radcliffe.
He said the results of the research indicated that boys do indeed learn differently from girls, and that they responded to a practical-oriented curriculum, delivering much better results.
He said as part of this new initiative, there would be significant training of teachers, both at the teachers' college level and among those already in the system.
Radcliffe acknowledged that there would be a challenge in implementing the programme in co-educational institutions, but said a suitable solution was being explored.
Pages: 1 2