Home » Life
Jamaica: Celebrating 50 years of Independence today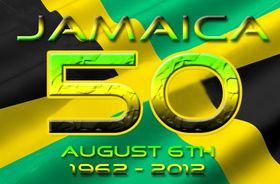 Jamaica celebrates its 50th anniversary on August 6.
Jamaica, with a population of approximately 3 million, was the first and largest of 10 Caribbean islands to win independence from Britain.
Jamaica has a lot to celebrate in its' 50 years of Independence:
It has kept up a working, uninterrupted democracy;
Institutions like the University of the West Indies have gained international respect;
and from reggae music to Rastafarian chic, few small, developing countries have ever branded themselves as famously as Jamaica has — a point likely to be driven home at the London Olympics by a juggernaut of Jamaican sprinters, led by Usain "Lightning" Bolt, who could win every race at the same moment their nation marks its break from British rule.