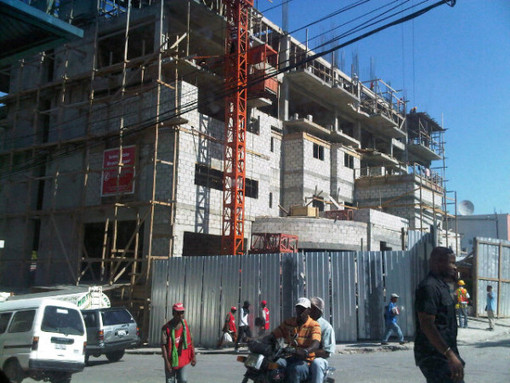 Best Western Hotel Construction in Haiti. PHOTO/File
Glimmers of hope are coming to this devastated capital and its surrounding cities, as the concrete Royal Oasis hotel rises over a metropolitan area still filled with displaced-persons camps housing hundreds of thousands. Signs of Haiti's comeback can also be seen in the 105-room Best Western hotel being built within blocks of shanty-covered hillsides.
At least seven hotels are under construction or are in the planning stage in Port-au-Prince and its surrounding areas, raising hopes that thousands of investors will soon fill their air-conditioned rooms looking to build factories and tourist infrastructure that will help Haiti bounce back from a 2010 earthquake that officials say claimed 300,000 lives. Some damaged hotels are undergoing renovations.
Together, the projects add up to well over US$100 million in new investment and will generate several thousand jobs in a nation still struggling to emerge from years of natural disasters and political turmoil.
In fact, the new hotels are the first significant private-sector construction in Port-au-Prince in the two years since the quake.
"Cautious optimism and deep skepticism" is how economist Claude Beauboeuf describes Haiti's hotel boom. For people to fill the hotels, he said, it's important that President Michel Martelly address the problems facing his government, which include an illegal force of armed men openly roaming the country, a string of mysterious police killings and strife with the opposition-controlled Parliament. He also needs a prime minister to replace the outgoing one who resigned after clashing with the president over priorities.
"If he doesn't address these things, investors will withdraw," Beauboeuf said, citing Club Med and the Holiday Inn as earlier examples of franchises that left Haiti because of political instability.
The planned hotels in the capital are not aimed at tourists, who avoid gritty Port-au-Prince. Instead, developers are targeting the contractors, foreign aid workers and diplomats for whom finding a room can be a challenge. The Clinton Bush Haiti Fund, led by the previous two U.S. presidents, identified new business-class hotels as key to attracting foreign investors looking for opportunities in Haiti. Similarly, President Martelly has said he wants to make Haiti less dependent on foreign aid and friendlier to outside investments.