Home » Business
Guyana increases gold mining, production and export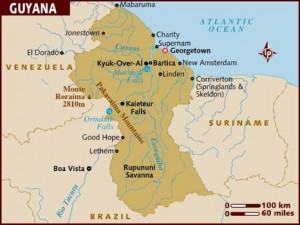 Guyana is reporting an overall increase in gold production, declaration and sales, with production recording 314,000 ounces, an increase of about 23 percent over the corresponding period last year.
Minister of Natural Resources and the Environment Robert Persaud reported that for the same period last year gold production declaration was just about 207,000 ounces.
"We have seen declaration and sales going up, sales to the Guyana Gold Board as well as to the private dealers," he noted. Gold exports are also at a similar 314,000 ounces level, which is also significantly higher from those recorded for the same period last year.
Gold has been trading on the international markets this week at around US$1,760 per ounce.
"The sector is recording good performance… the sector has been doing well and has been creating a tremendous impact on our national growth and the economy as a whole," Persaud said.