Home » News
Ethiopia Prime Minister Meles Zenawi loses battle to infection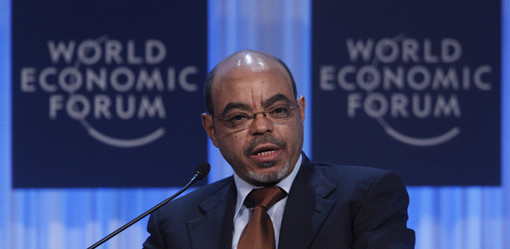 Ethiopia's Prime Minister Meles Zenawi at a session of the World Economic Forum (WEF) in Davos, January 26, 2012. PHOTO/Christian Hartmann/Reuters
Meles Zenawi, Ethiopia's long-time ruler, died of an undisclosed illness after not being seen in public for weeks, Ethiopian authorities announced Tuesday. He was 57.
Zenawi died Monday just before midnight after contracting an infection, state TV said.
Hailemariam Desalegn, who was appointed deputy prime minister and minister of foreign affairs in 2010, became acting prime minister and will be sworn in as prime minister after an emergency meeting of parliament, said Bereket Simon, the communications minister.
Parliament is controlled by Zenawi's ruling party and governing coalition, ensuring Hailemariam will be approved. No new elections will be scheduled, Bereket said.
Zenawi hadn't been seen in public for about two months.
In mid-July, after Zenawi did not attend a meeting of heads of state of the African Union in Addis Ababa, Ethiopia's capital, speculation increased that his health problems were serious. Ethiopian officials gave no details and said the prime minister was in "very good" health and would return to office soon, but international officials said quietly it was unlikely he would recover.
Born on May 8, 1955, Zenawi became president in 1991 after helping to oust Mengistu Haile Mariam's Communist military junta, which was responsible for hundreds of thousands of Ethiopian deaths. Zenawi became prime minister in 1995, a position that is both the head of the federal government and armed forces.
Pages: 1 2
Tags: Africa, Ethiopia, Meles Zenawi