Home » Politics
Election 2012: Obama widens lead – latest poll numbers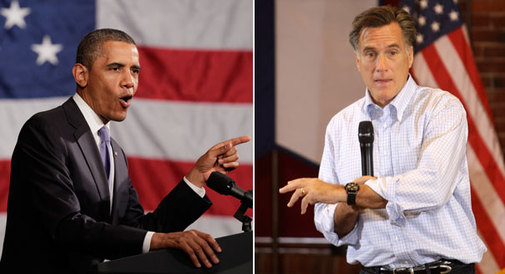 U.S. President Barack Obama (l) and Republican presidential candidate Mitt Romney. PHOTO/File
President Barack Obama has emerged from the conventions of both political parties with a clear lead over Republican challenger Mitt Romney, the latest NBC News/Wall Street Journal poll has found.
In the poll, Obama led Romney by 50 percent to 45 percent among Americans judged "likely" to vote by Peter Hart and Bill McInturff, who conducted the NBC/WSJ survey.
The Democratic incumbent also reached the 50 percent mark, to Romney's 44 percent, among the larger group of all registered voters.
The findings come at a challenging time for Romney's campaign. Two weeks before his first general election debate against Obama, and 7 weeks before Election Day, the former Massachusetts governor faces backbiting within his campaign and finds himself on the defensive over his secretly-taped remarks at a Florida fundraiser.
The shift marks "an important inflection point" in a race that has resisted movement for most of the year, said McInturff, a Republican pollster. Hart, a Democrat, ascribed the change to an increasing number of voters "getting comfortable with the next four years" of Obama in the White House.