Home » Politics
Election 2012: Obama and Democrats seek to exploit advantage on foreign policy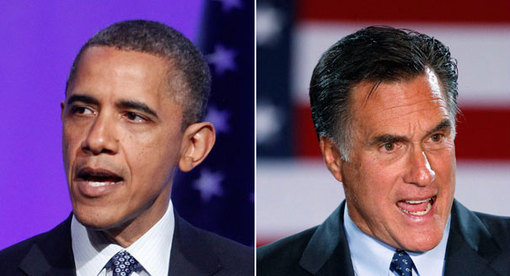 U.S. President Barack Obama (l) and Republican presidential candidate Mitt Romney. PHOTO/File
Democrats sought to push foreign policy, one of President Barack Obama's strengths, to the forefront of the White House campaign Sunday, casting Republican Mitt Romney as out of touch with the nation's international priorities and unprepared to manage them.
Vice President Joe Biden, campaigning in Pennsylvania, painted Romney as a warmonger who opposes ending the conflicts in Iraq and Afghanistan and is looking to start new military action in Iran and Syria. He made the claim without offering any proof.
"He said it was a mistake to end the war in Iraq and bring all of our warriors home. He said it was a mistake to set an end date for our warriors in Afghanistan and bring them home," Biden said. "He implies by the speech that he's ready to go to war in Syria and Iran. "
The campaign did not immediately respond to a request for details on Biden's claim.
It was a rare mention of foreign policy in a campaign that has been dominated by the economy. Polls show Obama leading Romney on who voters see as stronger on foreign policy issues, an uncommon advantage for Democrats on the issue.
Romney has said he would consider military action in Syria if the war-torn country's chemical weapons were at risk of falling into the wrong hands. Obama, who has opposed military action in Syria, has called it a "red line" for the U.S. if Syrian President Bashar Assad's regime were to use chemical or biological weapons.
And like Obama, Romney has said the U.S. must keep all options on the table, including a military strike, when dealing with Iran. But Romney has suggested that Obama has been too soft on Iran and, without offering specifics, said he would prevent Iran from obtaining a nuclear weapon.