Home » Politics
Election 2012: Judge blocks Pennsylvania voter ID law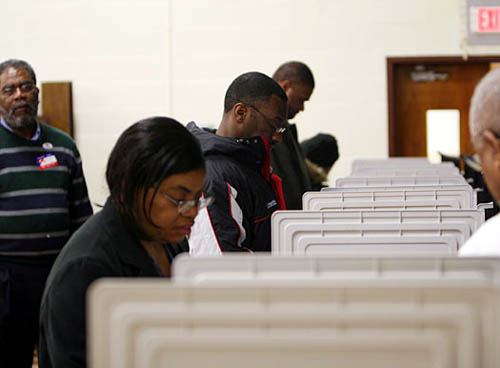 African American voters in Maryland. PHOTO/Rich Vary/NewsHour
Just five weeks before the November general election, a Pennsylvania judge reversed himself and blocked the state's strict voter identification law.
Pennsylvania Commonwealth Court Judge Robert Simpson issued a preliminary injunction Tuesday against the new law. He said that election workers can ask voters for ID, but photo ID will not be required to vote in the upcoming election.
Tuesday's decision is a sharp contrast to Simpson's ruling in August when he refused to issue an injunction and upheld the law. In that opinion, Simpson said the law "is a reasonable, non-discriminatory, non-severe burden when viewed in the broader context of the widespread use of photo ID in daily life."
He also said that opponents of the voter ID law "did an excellent job of 'putting a face' to those burdened by this new requirement," but he did not "have the luxury of deciding this issue based on my sympathy for the witnesses."
Opponents appealed his decision to the Pennsylvania Supreme Court. After hearing arguments from both sides, the Supreme Court returned the case to Simpson and ordered him to "reassess" his ruling based on the availability of ID cards and in light of "expedited" efforts put forth by the Pennsylvania government.
Simpson's decision may not be the final word on this case. It can be appealed back to the state Supreme Court, which is next scheduled to meet October 15 in Pittsburgh.
The voter ID law was signed into law by Republican Gov. Tom Corbett in March. The law generally requires voters to present a photo identification card in order to cast a ballot. Pennsylvania is one of 10 states that have passed ID laws in the past two years.
Tags: Election 2012, Pennsylvania, voter ID law