Home » Politics
Election 2012: It is Biden vs Ryan – debating in Kentucky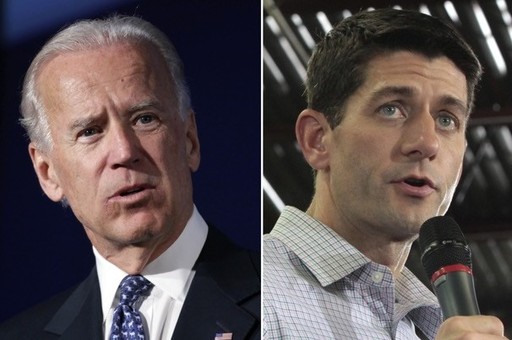 U.S. Vice President Joe Biden (l) and Republican Vice Presidential candidate Paul Ryan
Democrat Joe Biden and Republican Paul Ryan pull up a couple of chairs for a vice presidential debate that has mushroomed in importance since Mitt Romney's strong showing in the first presidential faceoff. This time, it's the Obama team looking to put the brakes on the other guy's momentum.
The veep showdown matches up two skilled politicians with strong policy credentials and very different styles. It's 69-year-old Biden's folksy appeal and solid vice presidential portfolio vs. 42-year-old Ryan's intensity and extensive knowledge of the federal budget and economy from 14 years in Congress.
"Looking forward to it," Biden said Thursday as he boarded his plane for Kentucky with his children and Rep. Chris Van Hollen, D-Md., who has been playing Ryan in practice debate sessions.
Like the second installment in a miniseries, the debate will help to shape the campaign narrative until Romney and Obama meet up again Tuesday. Obama is eager to change the vibe after his lackluster performance in the first debate and Romney's recent gains in the polls. Romney, for his part, is hoping a strong Ryan performance will help propel Republicans forward on an energetic drive through the campaign's final weeks.
Democratic Kentucky Gov. Steve Beshear encouraged Biden to turn in a tougher performance than Obama. Beshear said Obama "didn't do well" in the presidential debate and should have mentioned Romney's dismissive comments about the 47 percent of Americans who don't pay income taxes.
"My guess is that he was advised to be presidential and don't get into the fray and look like you are above the fray and all that," Beshear said in an interview with The Associated Press. "But there is a difference in doing that and being aggressive and making your points and pointing out the difference between your two candidates."
The 90-minute debate at Center College, a liberal arts school with just 1,340 students in tiny Danville, is sure to draw a television audience of tens of millions. But it's unlikely to eclipse the 70 million who tuned in to watch Biden face off with Republican firebrand Sarah Palin four years ago.
Tags: Election 2012, Joe Biden, Mitt Romney, Paul Ryan, President Barack Obama