Home » Business
Eko Atlantic City an example of how the private sector rebuilding Nigeria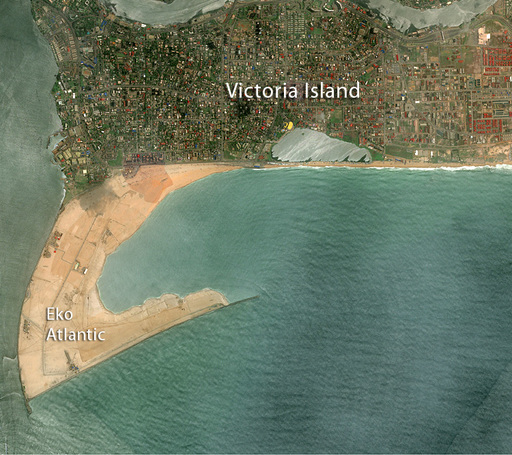 Satellite image of the mass of land reclaimed for the Eko Atlantic City. PHOTO/File
It is widely expected that Nigeria will overtake South Africa as the continent's biggest economy. According to some estimates this could happen by as early as between 2015 and 2018.
One of the projects that best illustrates Nigeria's ambitions is the Eko Atlantic development in the country's commercial hub Lagos – a new business and residential area to be built on 9 km2 of land reclaimed from the Atlantic Ocean. With an estimated 18 million residents, Lagos is one of the world's fastest growing cities. The city's infrastructure has, however, not kept up with its population growth.
"Lagos has a large concentration of multinational companies and is home to almost half of Nigeria's skilled workers. It is one of Africa's five biggest consumer markets and boasts a higher standard of living than anywhere else in Nigeria. Nevertheless, rapid urbanization and population growth have introduced significant challenges for its water, waste management and sanitation infrastructure, and have put pressure on the energy supply and traffic management.
According to the developers, Eko Atlantic will be home to 250,000 people and a workplace for another 150,000. The new city is expected to have waterfront areas, tree-lined streets, efficient transport systems and mixed-use plots that combine residential areas with leisure facilities, offices and shops. The development will also have its own power generation plant, sewage treatment facilities and fresh water supply.
Eko Atlantic is being developed entirely by the private sector.
What makes Eko Atlantic different from many other ambitious projects that have been announced in Nigeria is that it is not merely a plan on a piece of paper, it is actually happening. Significant areas of land have already been reclaimed.
The Eko Atlantic city is a prime example of how the federal government of Nigeria is utilizing the private sector to improve the country's infrastructure.
Tags: Africa, Eko Atlantic, Lagos, Nigeria