Home » Sport
Anderson Silva dominates and defeats Stephan Bonnar at UFC 153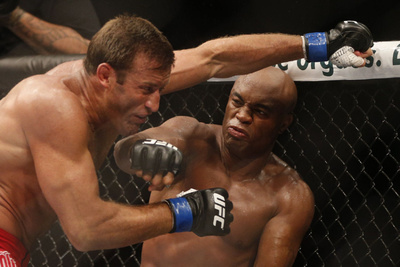 Brazil's Anderson Silva (r) defeated Stephan Bonnar (l) of the United States at UFC 153 in Rio de Janeiro Oct. 14, 2012. PHOTO/Felipe Dana/AP
Anderson Silva surprised no one on Saturday night.
The UFC middleweight champion earned his record 16th-straight UFC win with a devastating finish of fan-favourite light heavyweight Stephan Bonnar in a non-title bout that headlined UFC 153.
A 10-to-1 favorite entering the event, Silva (33-4 MMA, 16-0 UFC) did exactly what he was expected to do, and yet in a manner fitting of "The Spider," he did it with unmatched flair.
Bonnar (15-8 MMA, 8-7 UFC), who was semi-retired before receiving the once-in-a-lifetime opportunity to fight Silva, opened the fight in fine fashion as the moved forward with punches and worked hard for a takedown.
Silva defended well against the cage but was unable to find any space to strike as Bonnar smothered him against the fence. Everything seemed to be playing out perfectly for Bonnar, but it all went downhill very quickly.
When Bonnar finally pulled away, Silva didn't try and strike in the center of the cage. Instead, he went right back to the spot where Bonnar had put him on the fence and dropped his hands. He invited Bonnar to engage him again against the fence and even seemed to allow his opponent to land a few strikes, even if only to demoralize him when they were woefully ineffective.
Bobbing and weaving with movements rarely seen in the octagon outside of his own fights, Silva simply toyed with the overmatched Bonnar.
Tags: Anderson Silva, Mixed Martial Arts, MMA, Stephan Bonnar, UFC, Ultimate Fight Champion